Are you ready for a decent pedophile?
I'm not, and I'll be screaming against it to my last breath. But it's coming, unless a large contingent of parents shows up at the school and another important venue: church.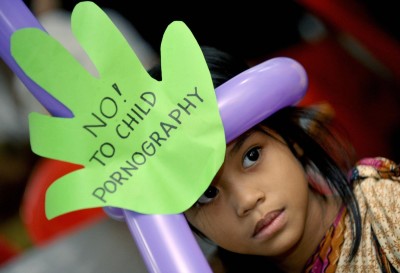 The truth of Jesus, inspired by the faith of the Holy Spirit, can overcome the tragedy of child corruption. We can do it.
But first, we have to face how all of us are groomed as child sex is packaged and sold into America, even with the latest fashion trends from companies like Balenciaga.
We must take decisive steps to end this evil trend.
Here are the top 10 ways America is normalizing the sexualization of children.
1. Children's Empowerment and Consent.
Should children make their own decisions about health care, counseling, and even choice of sexual partners?
Children's right to "freedom of association" emerged more than three decades ago in the proposed United Nations document, the Convention on the Rights of the Child. The document still has not been ratified by the United States and other countries. It remains a cherished goal of the global left.
Early gay activist groups proposed lowering the age of consent, then dropped the egregious tactic. It returns as a subtext to safety and suicide prevention efforts, first manifested as medical clearance.
Healthcare "best practice" now allows children to receive treatment sometimes without their parents' knowledge. Planned Parenthood blatantly obtains consent for abortion and other services directly from the youngest teens, and school health clinics keep their doors open. The sexual partners of these children are sometimes adults, but without parental supervision, who would know?
In schools, the sexual left not only teaches children that they have the right to say "no" to unwanted touching, but that they also have the right to say "yes."
Counseling children about sexual orientation or gender identity without notifying parents is the latest standard advocated by the American School Counselors Association, the Biden administration (through proposed changes to the Title IX sex discrimination law), teacher unions and others . Recent parental lawsuits and more than 200,000 comments on proposed Title IX changes may dampen that trend.
2. Prevent effective opposition to "LGBT" promotion in schools.
The influence and intimidation of those who promote homosexuality and gender bias in schools is unbelievable.
One of the movement's greatest successes has been to label all dissent as "hate" and "bigotism," thereby cutting off parental and school oversight of those who might corrupt underage children. More recently, collaborations with proponents of critical race theory have portrayed anti-LGBT behavior as tantamount to racism.
3.Obscenities masquerading as "diversity, equity, and inclusion."
One time-honored way predators lure young people is by exposing them to erotic conversations and images.Recent parent outrage over obscene books in libraries such as Gender Queer, Meadow Boys, This Book Is Gay and others are often resisted by school boards. These titles are inappropriately defended as necessary for "LGBT" youth as part of the school's commitment to "diversity, equity and inclusion."
4.Failure to address prevalence of adolescent exposure to pornography.
Many adults are reluctant to take strong steps to ensure that children do not have access to pornography. The surge in children being forced into pornography is heartbreaking and one of the biggest causes of child sex trafficking. How can we stop this cancer that metastasizes so rapidly?
5. Cowardly.
The silver lining of COVID school closures is that there are plenty of parents outraged by the mask mandate and what their kids are being taught on ZOOM. Based on love for their children, parents are looking for thorns they didn't know they had.
We need more dads and grandpas to lead the way in this battle.
6.Participation in Christian churches has been spotty and timid.
Doesn't Satan like it when the church is silent when children are victimized? Many pastors don't take the time to understand the details of what children face in school. Pastors should also be willing to testify in person before city councils, school boards, and state capitols.
7.Purely "racist".
Another insidious trend is what James Lindsay covers in his excellent podcast called "Groomer Schools". This is an elite push for a cultural Marxism in which, in addition to destroying the nuclear family, a common goal is to cast aside the innocence of childhood. It's either seen as unnecessary or as a remnant of white capitalist domination, essentially "racist."
8. Fake children's 'support' groups could be a front for predators.
It's a total disgrace that there are youth groups in many cities that promote LGBT behaviour. For example, allowing interested teens as young as 11 to show up without their parents knowing. If you were a sex trafficker, would you be eager to volunteer at a venue like this?
Sites like The Trevor Project offer useful suicide hotlines for LGBT youth, but what it does is lure emotionally vulnerable youth as young as 13 into online counseling without parental permission, and offer only one piece of advice: If you have same-sex attraction, go for it. If you're gender confused, if your parents can't "affirm" who you imagine you are, they won't love you.
The Trevor Project also owns "Trevor Space," an unmonitored chat room that adults can easily access and connect with vulnerable children. Might as well have a sign that reads, "Sex Traffickers Welcome!" Many schools list Trevor as a respectable resource for suicide prevention.
9.A new definition of "discrimination".
The left is creating situations that further separate children from their parents through the deception of gender ideology. I have already mentioned the growing trend of counseling children without parental consent. This is justified as "protection" under the assumption that some parents will harm their gender-confused children. No school has the right to label a parent's legal authority over medical decisions as a threat. And yet that's where it's headed.
10. Minor children have the same right to speak as adults.
Individuals such as climate activist Greta Thunberg and anti-Second Amendment activist David Hogg are championed for a variety of reasons and taught to demand an equal voice in public policy. Rough's Social Emotional Learning program puts student voices front and center.
High school students testified at the hearing, with many speaking out about their sexual orientation/gender identity. Their naivety creates more opportunities for coercion. Adults are emasculated when it comes to correcting misinformation given.
Who benefits when responsible adults can but often do not act decisively? A growing population of predators.
Actual pedophiles usually receive light sentences. Apprehension and conviction are only the first step. As with the troubling record of early releases of pedophiles from California prisons, the left-wing judiciary has grown increasingly tolerant of known predators.
Sadly, this sexual exposure has not decreased but increased stress, depression, anxiety, reckless behavior and suicidal tendencies among young people.
It's not just abortion that kills our children. This is the agenda of the sexual left.
Only you and I can stop it.
Linda Harvey is President of Mission America.
free

Religious Freedom Update

Get with thousands of people free post Free newsletter, sent out twice a week from The Christian Post.